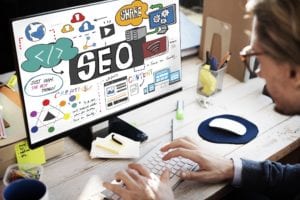 Search Engine Optimization. It's a term that gets thrown around quite a bit. You may get an email or two for a quick fix to your SEO woes now and then. But there's a reason those end up in your spam box. Ultimately, an easy solution to a complicated task results in an empty promise. And while optimizing your site for Google's particular preferences may be daunting, you must resist the temptation for a quick fix! So, we propose a new approach: Holistic SEO.
Opt for Holistic SEO
With the same goal in mind, holistic SEO takes on a much different course of action. It incorporates all aspects of what makes your website awesome: 1.) user-friendly structure, 2.) technical flawlessness, and 3.) engaging content, of course! For this blog, we'll focus on the content. This takes quite a bit of thought, and some well-executed research before the writing even begins.
The Basics
As you get started, there are a few things to keep in mind. First, make sure that each piece of writing is original and fitting for your site. Original text that is perfectly catered to your site's goals will have a better chance at ranking high in search results. Next, be sure that what you're writing about is something that people will want to read. No matter what you do, whether it is inherently engaging or not, you'll need to find a way to ensure that your content always is. And make it awesome. Easy enough, huh? Let's start with some simple steps to make this a bit more manageable.
Start With Keyword Research
Google, which uses links to connect a searcher to a website, uses keywords to understand what your text is all about. These distinguished words and phrases are what define and most basically summarize your text. And it is your challenge to make sure that these match the search phrases of potential clients. The better you do this, the higher your website will rank on Google's search results. So before you prepare your content, you'll need to decide on the terms for which you would like to rank.
Look Out for the Competition:
Once you get an idea for the search terms you'd like to implement, keep in mind that some are ultra-competitive. Take, for example, a generic term like "shoes." Tens of thousands of websites feature optimized content for this word. So, how will you fall into this mix? And take note that the top three results will attract most of the total clicks. Make sure that you're one of them!
Types of Keywords:
Choosing the right keywords requires a bit of research. Before we get started, though, let's take a look at the different types of keywords out there.
1.) Head Keywords: These represent your main topic. They are a single thematic keyword. If you could summarize your content in one word, this would be it!
Head keywords are hard to rank for, especially if you're just beginning to compose content. This is because the sites that will take up those top three spots on a search results list are well-established and often widely-known companies.
2.) Mid-Tail Keywords: These are derived from your head keyword but are more specific. They are also likely phrases, comprised of more than one word.
3.) Long-Tail Keywords: Even more specific than mid-tail keywords, long-tail keywords can be made up of several words.
These are the keywords for which you should aim if your site has yet to develop an online authority. Though such specialization will reduce traffic potential, they will produce a better ranking on Google. And higher rankings in search results will establish your online authority.
Conducting Keyword Research:
With these in mind, take these steps to conduct useful keyword research:
1. Define Your Mission. Who are you, and what are you all about? This consideration should come before any other task and remain at the forefront of your every decision. Let it guide your keyword research.
2. Make a List of Keywords. The words and phrases for which you chose to optimize should be foundational to your business. They should attract your intended audience and guide them to helpful answers and information.
3.) Research Your Competition. Google the search terms you would like to rank for and see what companies come up. Ask if you see yourself fitting in somewhere between these results.
When you rank as a top-three result on Google, searchers are more likely to click on your site. And with this accumulation of visitors and clicks, you will gain web authority. Google will learn that you really are a great option for its searchers!
Decide What to Write About 
This often may be the most challenging step. Choosing a single and engaging topic for discussion is not as easy as it sounds. But, be sure to do so with focus and purpose. Make sure that your subject is specific and takes an interesting angle for your readers. Looking for inspiration? Read other blogs and stories on current events. Consider the common problems your clients have faced. Or make a series of blogs- what's a broad topic you can break down into palpable segments? Whatever you write about, be sure that it's readable and interesting. Engage your readers and invite them to stay awhile!
Prepare Your Text and Write!
Do not overlook the value of adequate preparation for your text. In fact, this should consume about 40% of your time. Compose necessary research so you offer your readers accurate information. Then, structure your text with readability in mind. Use paragraphs and sentences as organizational tools. Internet users are often in a rush, so make it easy for them to find what they're looking for. Remember, with well written and easily understood content, visitors to your site are more likely to engage with your services or products.
We could go on about the value of content for your site's search engine optimization. Basically, it plays a huge role in the likelihood that your site tops Google's results list. And while it demands your hard work and a sufficient amount of devoted time, quality content will pay off. If you, however, would rather focus on your field of expertise and let someone else handle your SEO tactics, do not hesitate to reach out. We at Creative 7 Designs just so happen to know a thing or two about content creation and website optimization. Call on us for your holistic SEO solution!